Collection: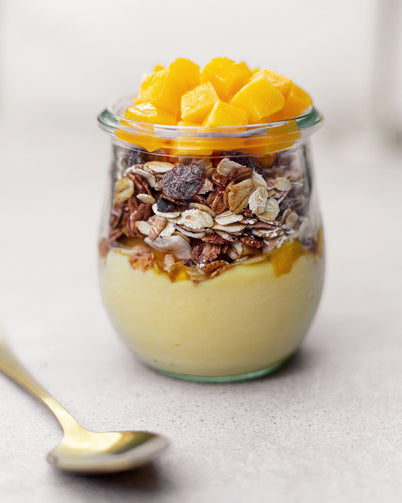 Collection:
Mango Yogurt (Limited Edition)
Mango Yogurt (Limited Edition)
Regular price

Sale price

$12.00
The Mango Yogurt is flavoured with top quality freeze dried mangoes. Available in both Bulgarian and Greek Yogurt.
Perfect for eating straight out of the jar or in a breakfast bowl. It can also be used in desserts, baking or cooking.
Ingredients: Fresh pasteurized whole milk, 100% pure freeze dried mangoes and erythritol. Contains active cultures lactobacillus bulgaricus and streptococcus thermophilus.
Best consumed within 3 weeks. Please keep refrigerated at 1º-4º degrees.
Nutritional Info:
| | |
| --- | --- |
| Serving size | 100 g |
| Cal | 89 |
| Carbs | 15g |
| Fat | 3g |
| Protein | 5g |
| Sugars (natural) | 7g |